Maintenance of paperwork is a practice that is slowly going out of fashion. Documentation processes are now making a shift into the digital space, to preserve information securely, streamline access and make editing of data much easier. Similarly, in the world of healthcare IT, Paperless document management processes are the need of the hour now more than ever. Which is where an EMR System or Document Management System comes in.
Considering the effects of the Covid-19 pandemic and the fear of transmission of the virus, hospitals today are also inclined to digitize all levels of documentation. But why is Digital Documentation so necessary for hospitals? Lack of a digital document management system can reduce staff productivity, increase paperwork management and processing times, minimize TAT, lead to document leaks and hamper document retrieval.
Here's a list of benefits of a Document Management Software:
1. Faster documentation and zero errors:
An ideal document management system enables the automation of MRD Processes and helps digitize incoming patient data and documents to make it easier for management. These systems include functionalities for automated document indexing and scanning with multiple levels of categorisations to organize the documents as the staff deems fit. The software helps automate the process of creating digital medical records so that any patient data stored is easily retrievable only in a few clicks. 
It streamlines quality checks processes to avoid errors in scanning and indexing which helps with accurate storage of data. This digitized process being automated adds to the credibility of EHR Systems as it speeds up all document centric processes to follow. This system helps in overall error reduction and makes the storage and retrieval process of documents faster. 
2. Improved employee productivity:
One of the major advantages of having a DMS present in the hospital framework is the tangible improvement in employee productivity and proactivity. With the availability of a single application running across the hospital departments makes managing end-to-end digital workflows seamless. Doctors, nursing staff and administrative staff can reap the benefits of digitised document management by accessing the patient information digitally.
The DMS Software provides a centralised collaborative space for staff and makes it accessible at any time as long as the staff is authorized to use it. With centralized access to a patient data repository, authorized staff can get easy access to data in real time on a single application. With facilities such as digital logs of patient files and smart search options using predefined document categories, it makes the overall placement and management of patient data much more streamlined. 
With the ability to receive and make digital file requests, staff can request patient data across departments and deliver files digitally for faster response times. The ability to map out and recover from loopholes in the document management process is also vital.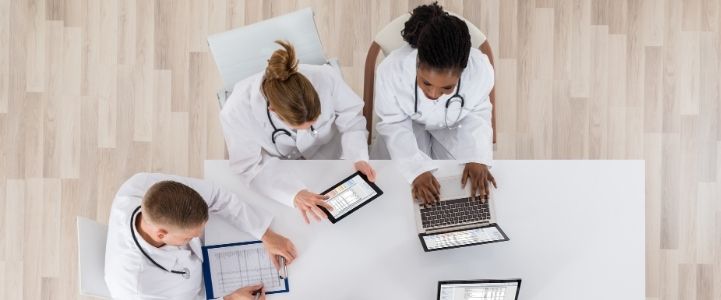 3. Healthier Patients and better healthcare measures:
Once the hospital front desk assigns  patients with unique patient IDs, a Smart DMS with its easy integrations of all departments pulls the data of the patient and saves it onto a centralized repository, in tandem with the unique ID of the patient. This information is then available for viewing in a structured format in real time. 
This helps doctors, nursing staff, pathology staff and radiology staff, and other admin members to access the data as per their requirement and analyze patient health trends based on past medical history and enables practitioners to prepare a treatment trajectory for the patients. 
This ability to digitally compare patient progress over various cases in their medical history leads to improved healthcare and faster analysis of treatment measures.
With access to a central data hub and forum for authorized users, doctors across departments and specialties can collaborate on cases digitally and work together on patients that require extra care. With the ability to tag and annotate digitally, without modifying the patient data, it is easier for doctors to indicate to other staff the treatment that is to be delivered. 
4. Better Security Compliance:
Document Management Software for Hospitals today provides an activity log that monitors the whereabouts of the patient's sensitive healthcare data. With specific rules for file viewing, rights and authorization levels to restrict staff access to sensitive documents; restricted information can be kept secure from unauthorised views. These settings can also be configured at group or individual level for your staff based on the requirements of the hospital's internal policies, medical case or patient condition.
Maintaining patient data privacy is of prime importance. Not only is patient data a sensitive information but any violation of patient confidentiality falls into the realm of strict legal action against the organization and also compromises the reputation of the hospital. A document management system allows the staff to treat and manage confidential case files separately. With the added ability to mark some files as confidential and to restrict those who need not have access to them. 
This is where Medical Security Compliance is of utmost importance. Every DMS System must be Compliant with HIPAA standards of patient information security and other medical regulatory laws. This signifies that a software is up to the mark in terms of coding standards and meets the requirements of document governance. This includes the patient data, documentation and history retention and deletion policies to adhere to various medical laws. This feature helps patient retention due to an elevated level of trust and also increases trust among stakeholders.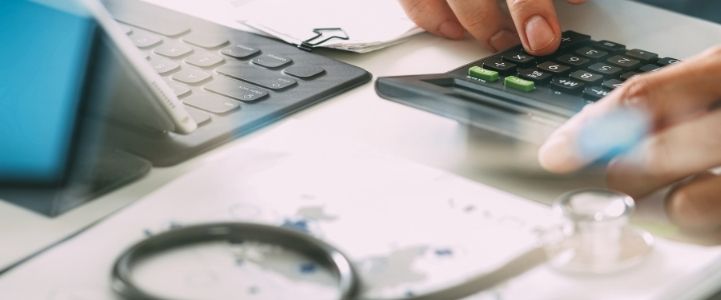 5. Cost Savings:
With a Document management system for medical records, all of the processes of secure document management are structured on a single digital collaborative space. This helps eliminate the need for large storage spaces and rooms full of cabinets to maintain paper based patient data. It also helps cut costs in terms of labor and data management or administrative personnel since the software is easy to use and helps in quick and accurate retrieval of patient documents. 
With increased performance around the hospital and from valued employees, the resultant patient satisfaction leads to patient loyalty. With faster paced healthcare delivery, a rapid inflow and outflow of patients across various departments can increase revenue over time. These benefits reflect in time when there is a better footfall of patients in the long run along with stakeholder satisfaction. An overall boost in turnaround time is therefore seen.
With the help of a Document Management Software your hospital can boost turnaround time, improve regulatory compliance and improve business ROI with a streamlined AI and ML driven, automated, digital solution. For information on Rescribe's DocuPHI DMS, contact us on our website.